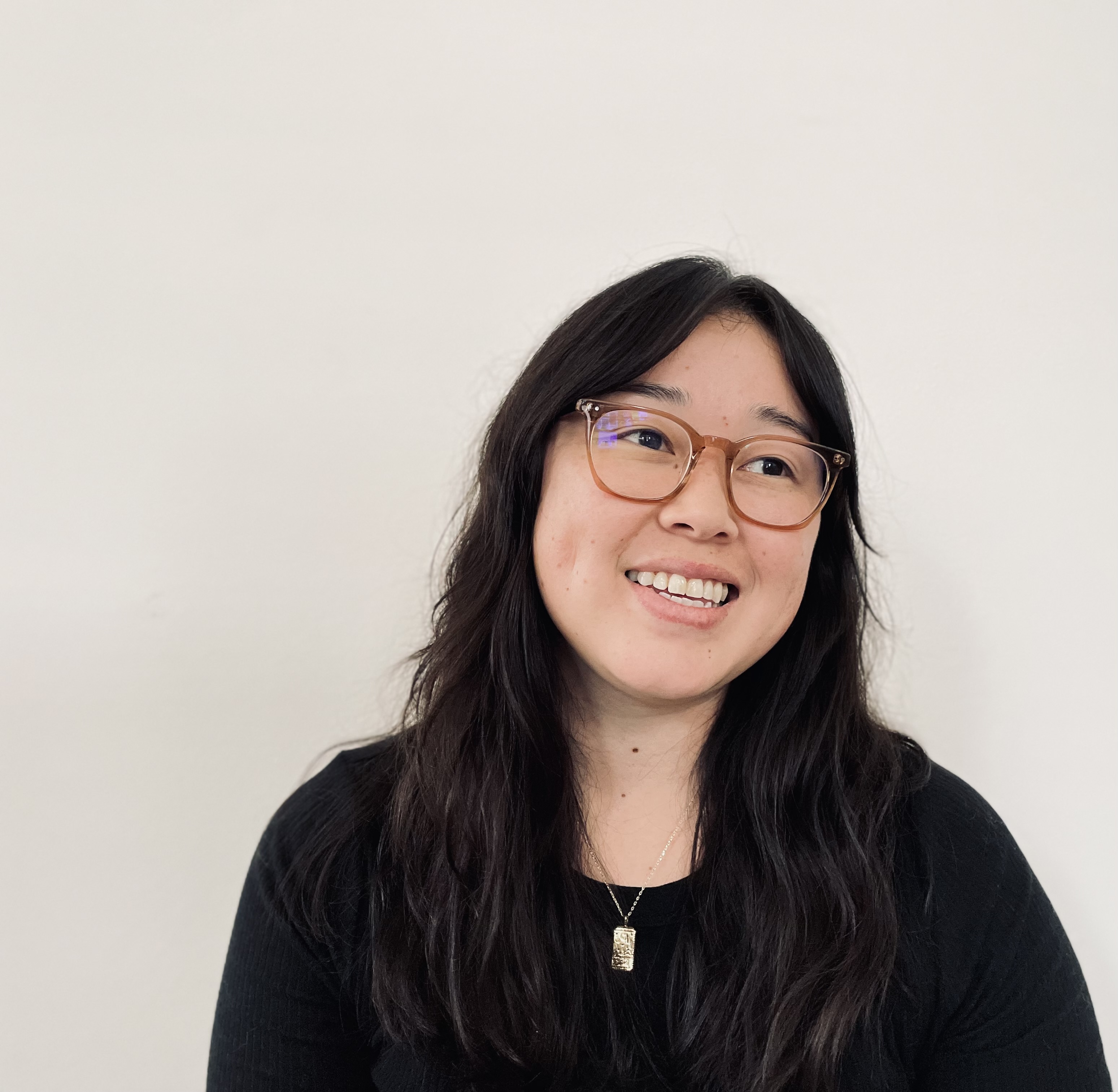 Patricia Garcia Soto
Product designer
Building trust
with Kaus
Responsive web design
Serving an online world
Kaus has been the trustworthy name in insurance for over 30 years, providing customers with 350+ package options. The company has primarily sold its packages through regional agents rather than directly to customers. Given the rise of digital insurance platforms, Kaus wants to tap into the digital market and sell their highly optimized packages online.
The focus of this particular challenge was to translate a trusted business model onto a responsive online platform. In order to increase their relevance and break into the online insurance market, Kaus would need to balance conveying a vast amount of insurance options with a simplified and trustworthy user experience.
Project Scope
Create a responsive website for Kaus, a trusted insurance company offering a variety of plan options to customers.
Deliverables
User research, UX design, product branding, responsive site MVP
Tools
Figma, Maze, Whimsical, Miro
Design Goals & Features
While the focus of this project was to build a responsive web platform for Kaus, the goals and required features made this challenge a much broader project than simply designing a website.
High level goals included:
Designing a modern company logo and portraying a trustworthy brand

Designing a responsive e-commerce website that allows customers to browse through all products and easily filter by relevant data
Some of the requested features were:
Overview of numerous insurance options including, property, motor, life, and more

Easy filtering to allow users to narrow down their options

A space for users to update, manage or view their claims or packages

Responsive designs for mobile, tablet, and desktop
Understanding the Problem

The Hypothesis
Given the number of insurance companies already serving customers, the MVP of the Kaus site would need to focus on simplicity and efficiency - especially with so many package options offered.
An MVP of the Kaus site with easy access to popular insurance types such as auto, home, and life as well as simplified purchase flows will build trust with customers.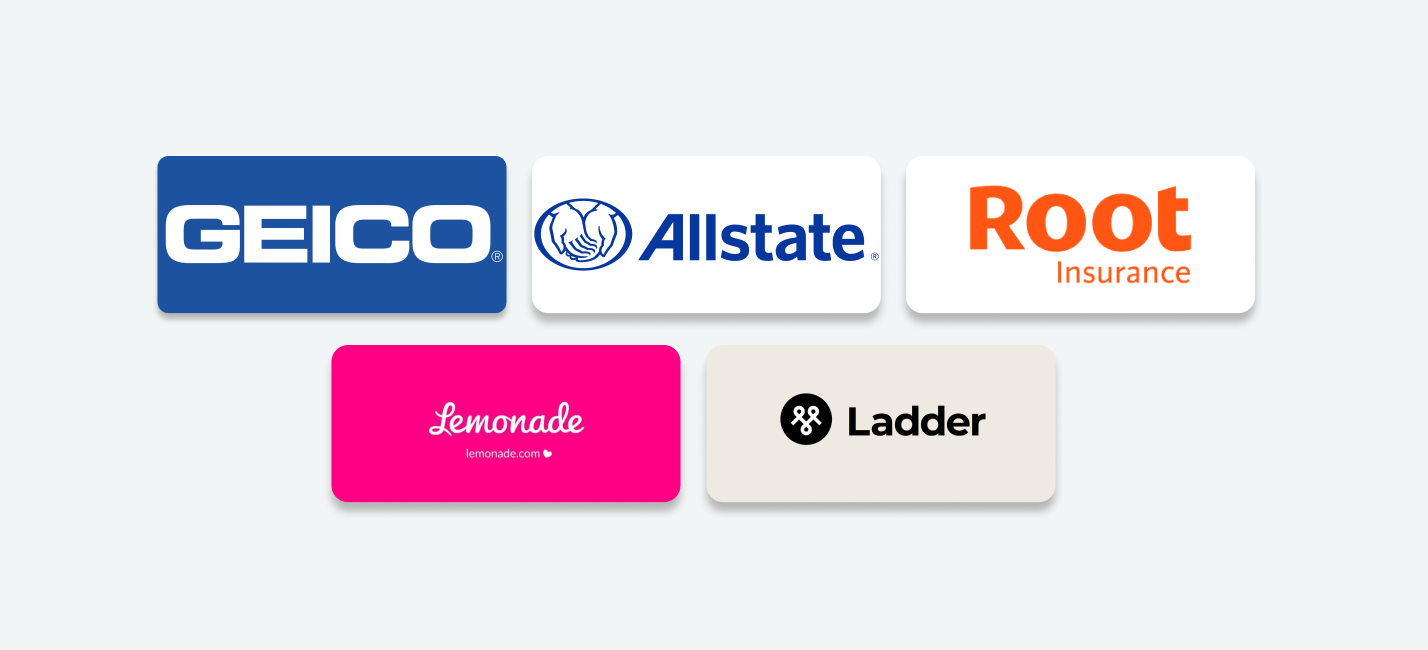 Exploring the insurance industry
In order to learn more about the insurance industry, I conducted a competitor analysis of 5 prominent insurance companies.
The analysis revealed a clear gap between both the design and features of more traditional insurance companies compared to new brands. Newer companies had more focused and limited package offerings but bolder or more unique user experience - including the use of AI or mostly app-based features.
Companies that offered direct-to-agent insurance often had sites with an overwhelming amount of information and choices. Almost all sites made it difficult to see pricing and initial cost information online without gathering personal information upfront.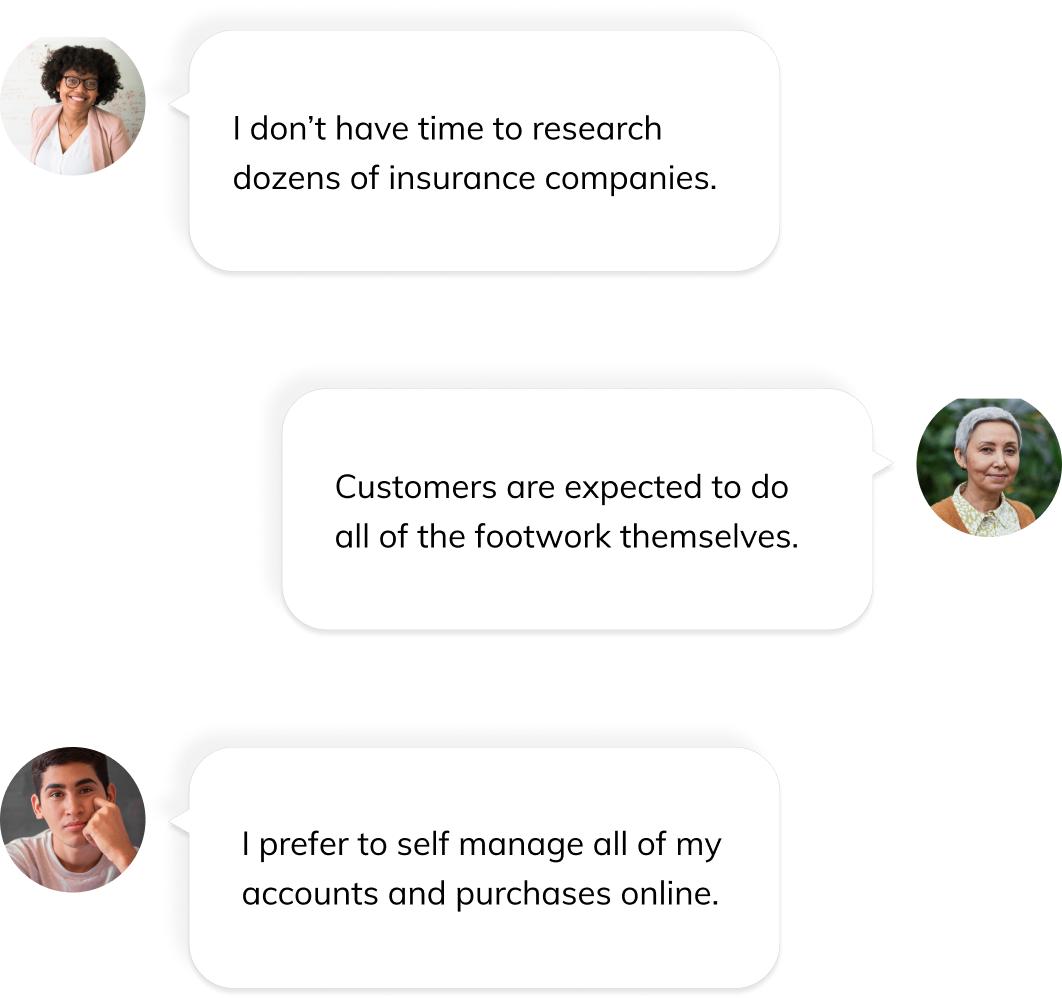 The Research
I gathered initial information from users using a survey with 24 participants between the ages of 25-35, and followed that with remote user interviews with participants between the ages of 29-70.

Given Kaus' focus on attracting a younger insurance audience for their products, much of my research is focused on younger respondents.
Survey information showed that almost all users purchased mainly auto or home insurance, and indicated that many users within the 25-35 age range use mobile as the main method for purchasing their insurance.

In live interviews, users attitudes towards the insurance process ranged, but the majority of participants preferred the freedom to self manage with access to agents or customer service when they had questions.
Building Empathy
I synthesized my learning in the research phase by creating a persona and empathy map for a potential Kaus customer. These tools summarized my research findings with a focus on human-centered thinking and building empathy with users. During this process, I used a user persona to capture the attitudes and experiences of my target user for the new Kaus site.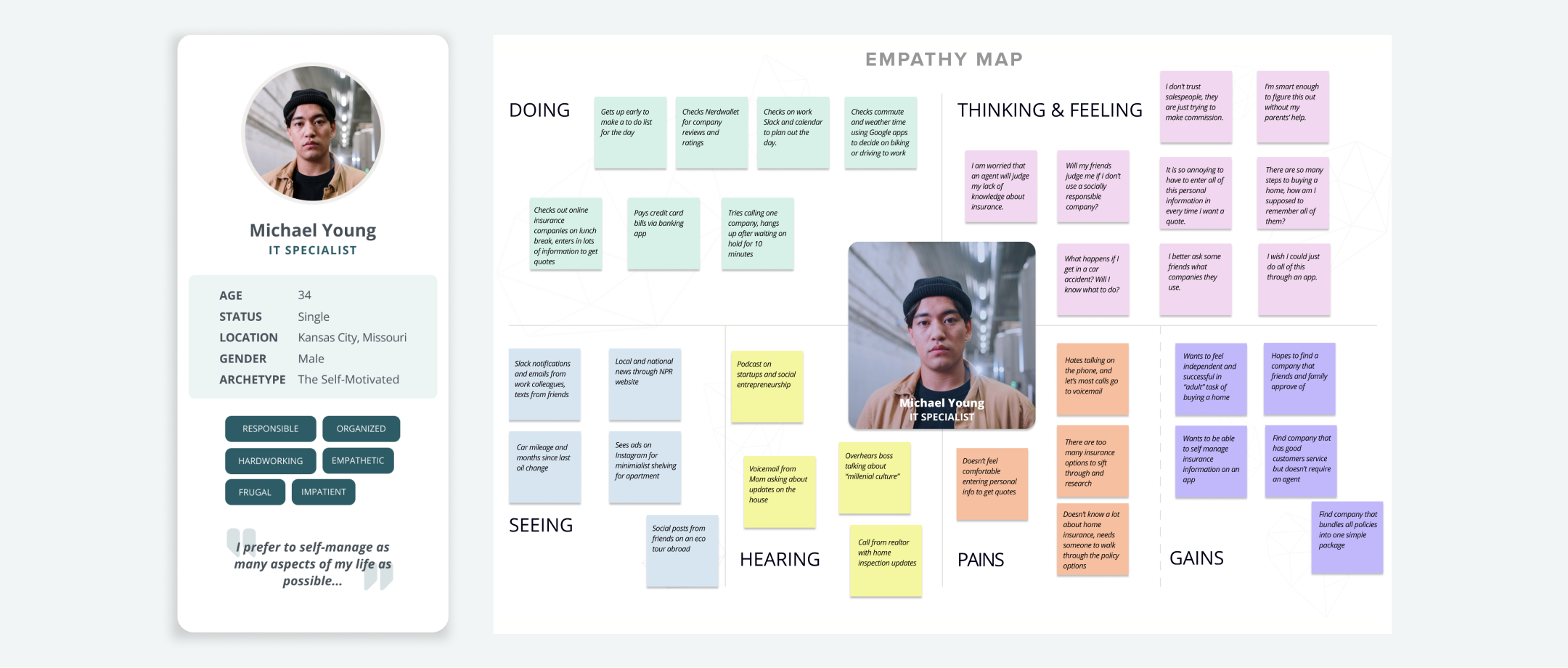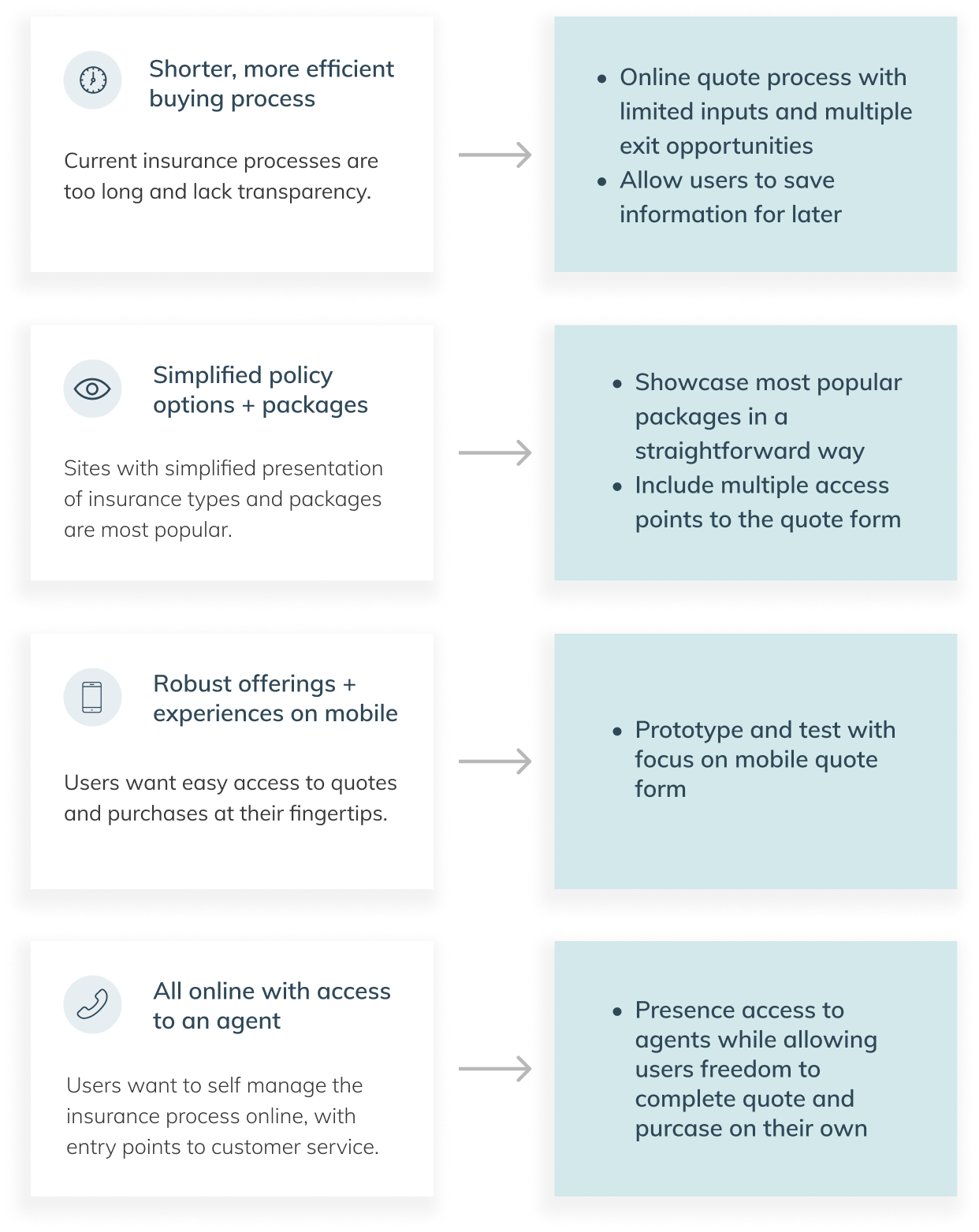 Synthesizing user needs
In both interviews and surveys, users expressed wanting more advocacy and efficiency in the quote process. Research findings trended towards four prominent themes:
Shorter buying process

Simplified presentation of policy options

Robust mobile experience

All online with access to an agent
These key insights allowed me to establish priorities for the site design, testing, and implementation.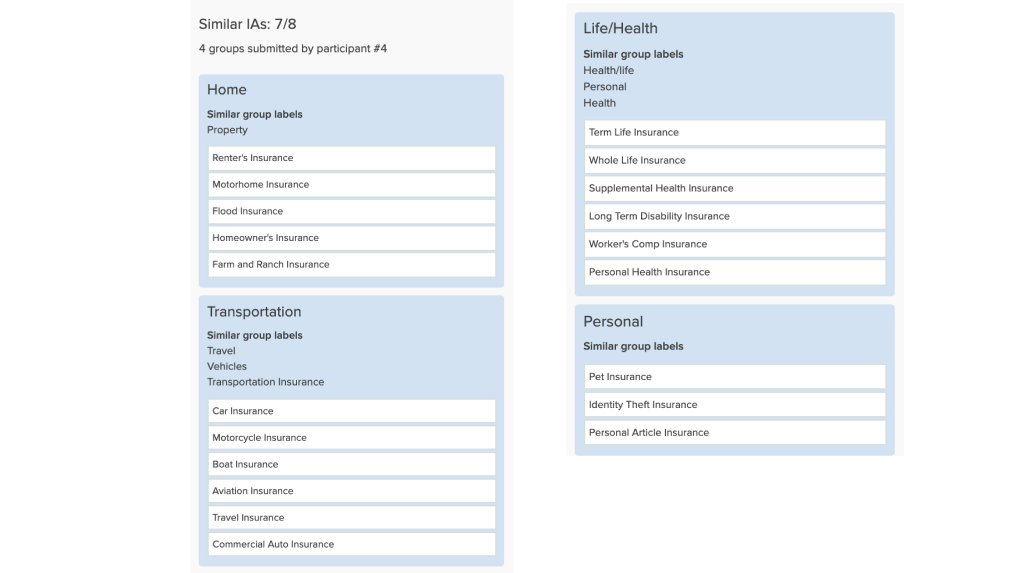 Card Sorting
Given Kaus' variety of insurance offerings, remote card sorting was used to gain insight from users on the organization of site content and navigation. Users sorted types of insurance into categories of their own choosing.

Card sort results showed that the most recognizable categories for insurance were Auto, Health, Home, Property, Personal & Miscellaneous.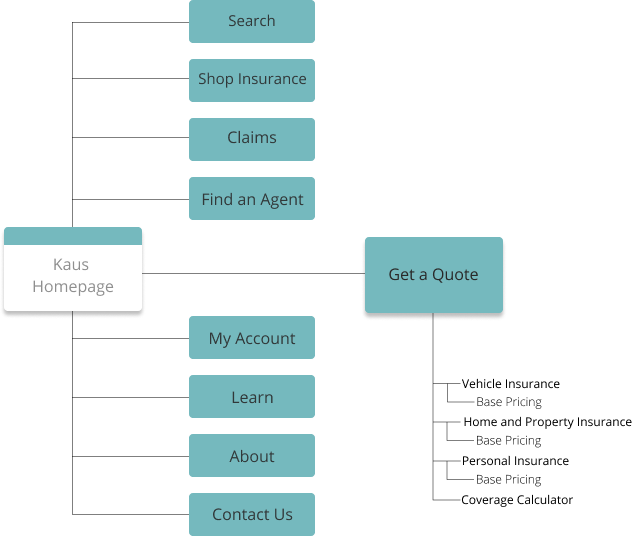 Task Flows & Site Mapping
The results of the cart sorting allowed me to establish a task flow of the path a user might take to receive and purchase an auto quote. This task flow, followed by a more robust user flow allowed me to build an overview of the pages with a general sitemap. This sitemap was key to keeping the focus of the design organized and optimizing the insurance purchase flow.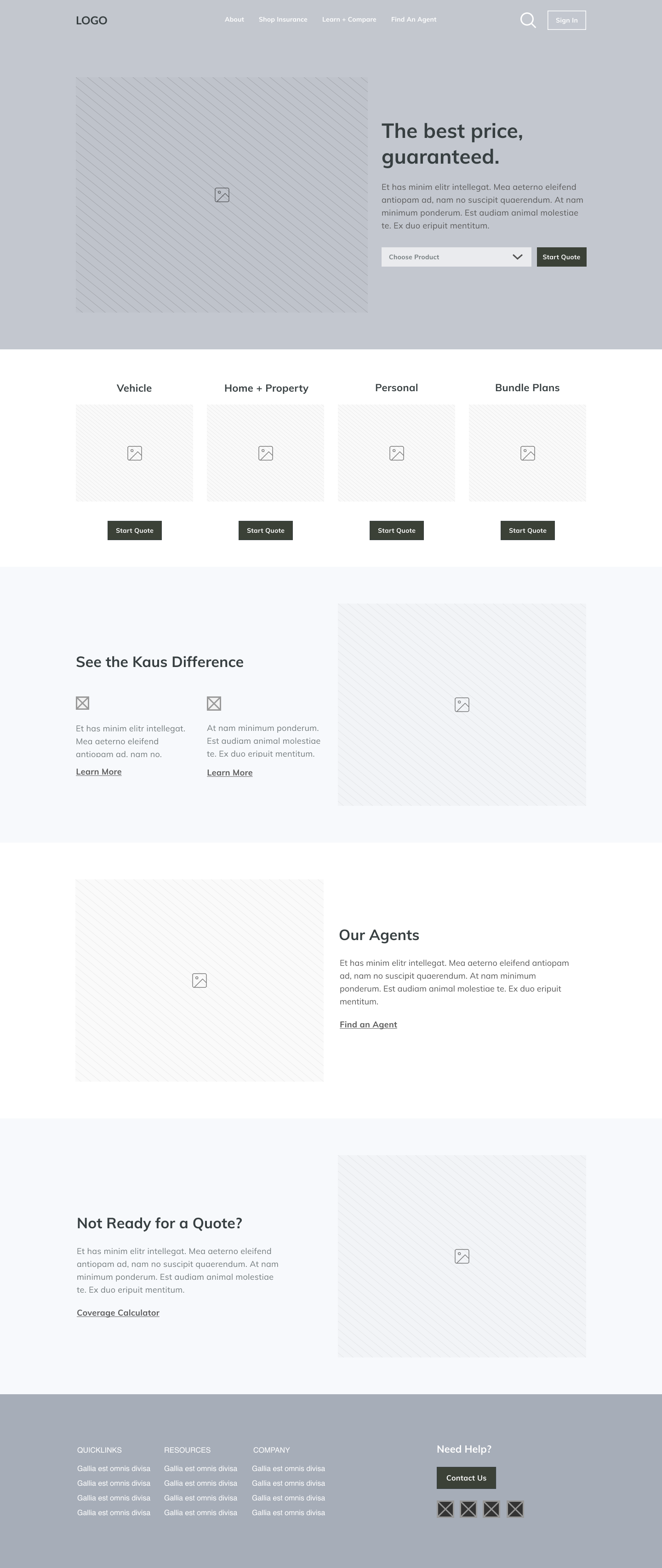 Wireframing
Putting together initial responsive wireframes allowed me to visualize the elements of the site to focus on for the high fidelity design.
It was during the wireframing stage that I also shifted to a primary focus on the mobile site experience for Kaus. So much of the user research supported a need for a strong mobile experience and given the business need to engage a younger target audience I decided to focus the MVP on the mobile site.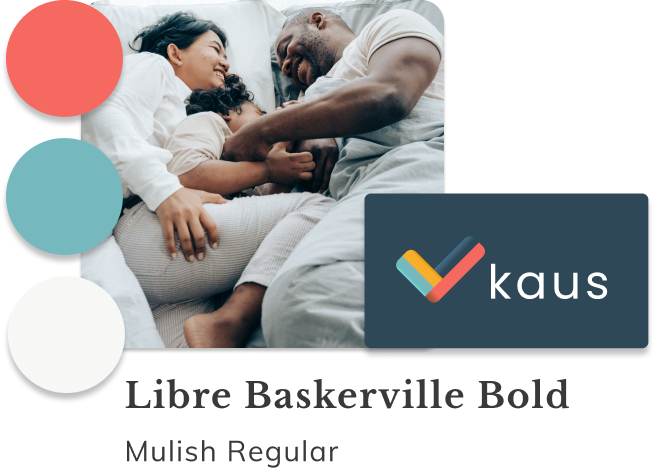 Discovering the Kaus brand
Research and mood boards were used to create the Kaus brand. As a company that wants to break with industry standards, the colors, typography, logo, and elements showcase a brighter and more playful tone than might normally be seen on an insurance site.
Homepage
During this process, I kept a strong focus on simplifying the Kaus homepage in order to avoid information overload for users.
Auto Insurance Flow
User research showed that auto insurance was the insurance type that users engaged with the most. As a part of the MVP, I designed an auto insurance purchase flow.
Package Confirmation Page
The confirmation page was an important entry point into connecting with an agent or confirming package information. The goal was to keep a short scroll on this screen, and offer space for collapsible or dropdown information.



Prototyping & Testing
With mobile screens mockups created, it was time to test my designs and create a usability test plan. The goal of this testing was to observe first impressions of the site design and hierarchy, test how easily it was for users to find, access, and purchase auto insurance online and discover any inconsistencies in user experience of the mobile site.

I gathered data through both asynchronous remote testing and live testing via Zoom.
Usability Testing Goals & Results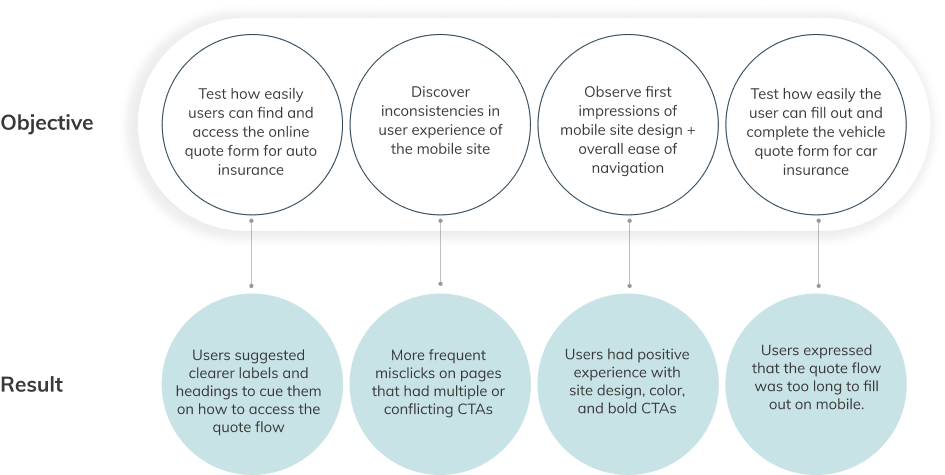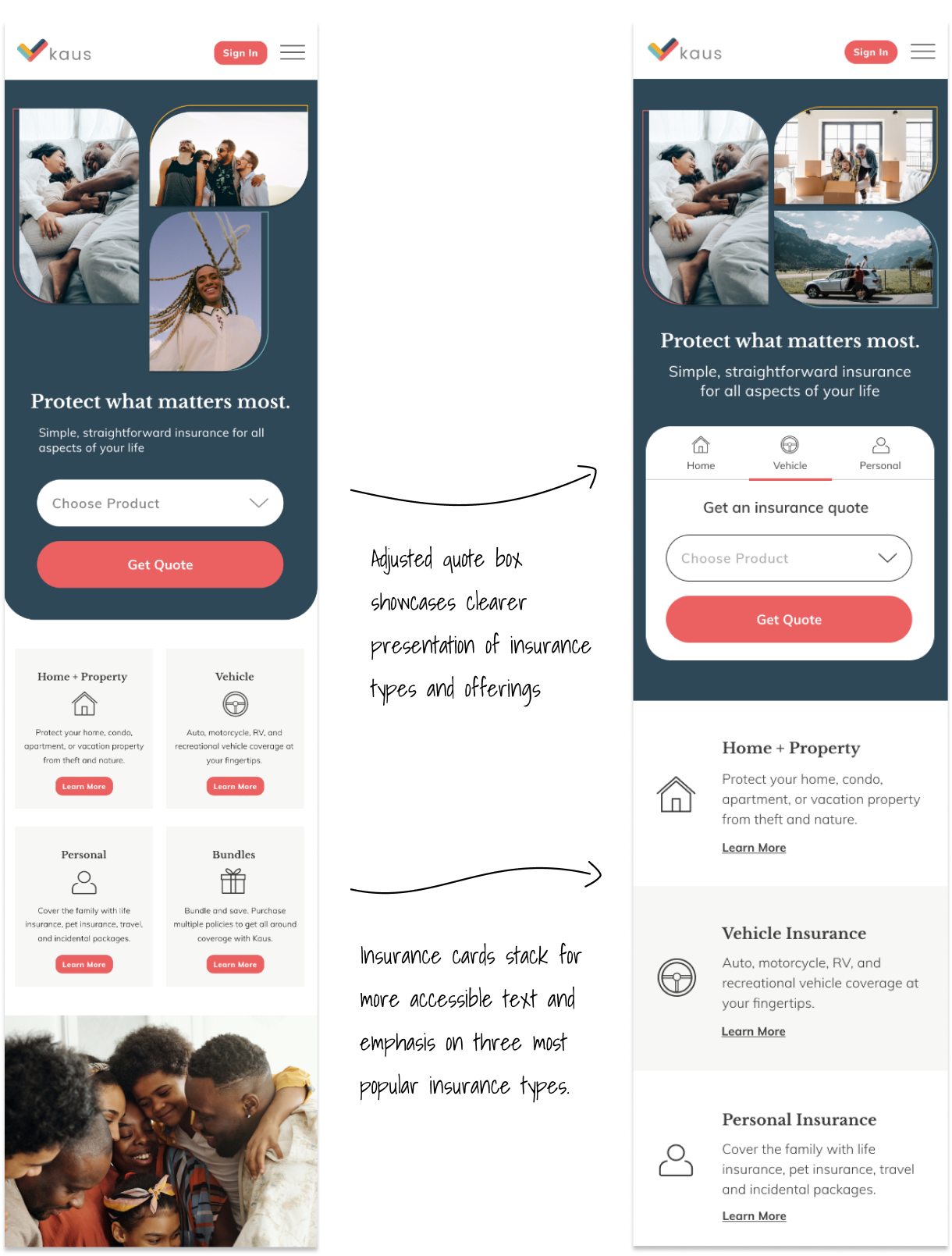 Updating the home screen experience
Both live and asynchronous testing showed user frustration with navigation on the Kaus homepage. Multiple users requested clearer labels, and a more robust product quote box at the top of the homepage. Initial iterations included segmented navigation on the quote box to improve user access to different insurance types.
Changes to the homepage also included adjusting insurance type cards to stacked cells to improve readability and accessibility on the page.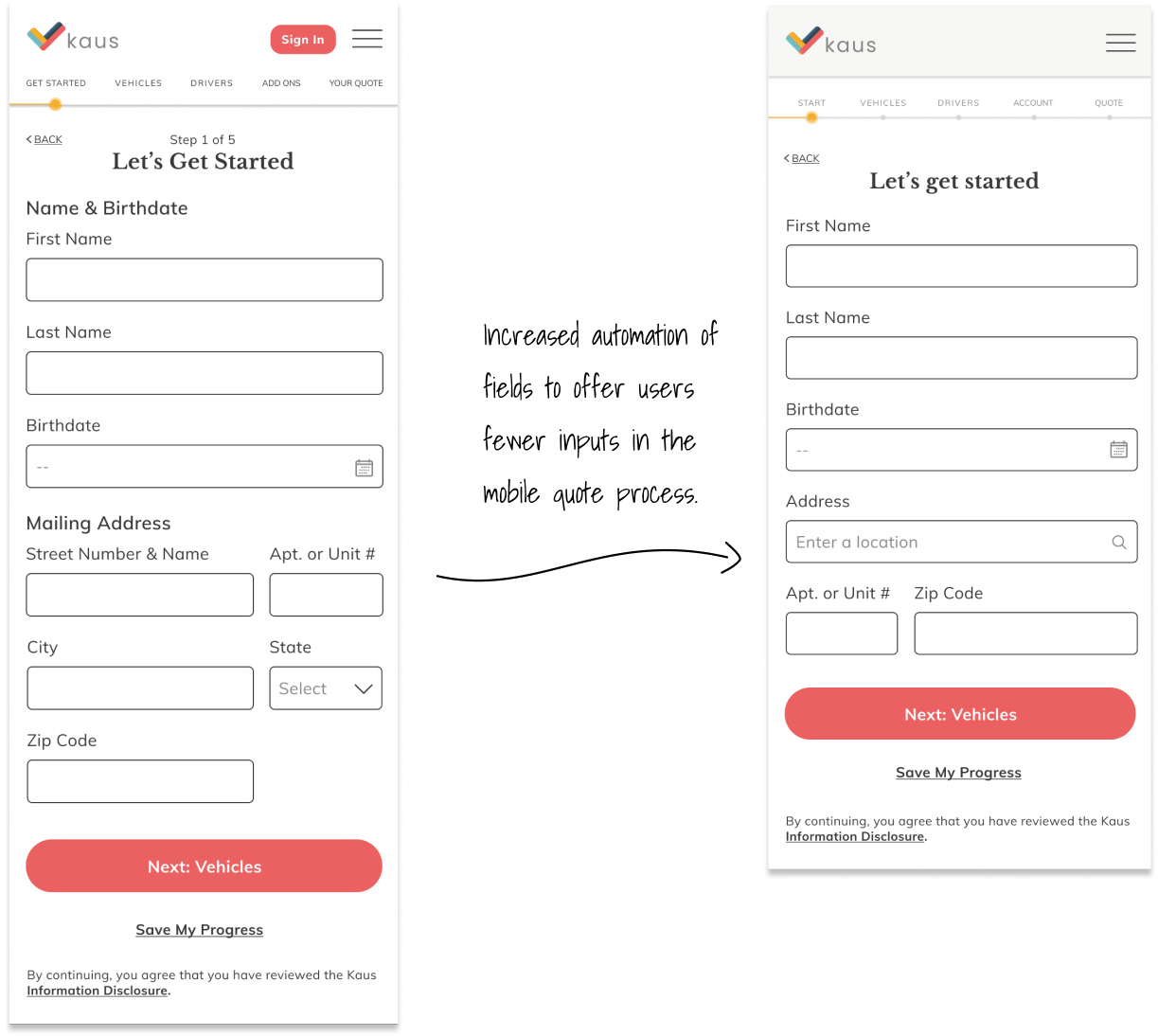 Simplifying the flow
Users also requested a shorter insurance quote flow. Many users stated that there were too many inputs in the form for an auto insurance quote.
In order to simplify the flow, I incorporated more automated inputs including an address search box rather than individual input fields. These reduced the number of form inputs in the overall flow.
Future Considerations
Building a website for Kaus was a challenge of both scope and feasibility. As a designer of one, it was quite the undertaking to focus on both the branding and large scale site design for this project - even if it was only in concept.
There remain many future opportunities for a site like Kaus. These features would be important additions to push the Kaus brand closer to it's goal of breaking industry standards in exchange for customer trust.
Future considerations for Kaus:
Exploring flow process for bundle packages with multiple insurance products included

Designing competitor comparison and coverage calculator tools

Building out FAQ and interaction with insurance agents online (i.e. customer chat or support).